ADHD Conference 2022
Understanding a shared experience
9AM - 3PM AWST | #ADHDCon22
Our biggest event of the year is here!
Join us for ADHD WA's inaugural ADHD Conference, exploring latest research from some leading ADHD experts
Saturday 29 October 2022 | 9:00am – 3:00pm AWST
Following this year's theme for Global ADHD Awareness Month, the conference is about Understanding A Shared Experience.
If you are:
An educator or professional looking to hone your evidence-based practices
An adult living with or supporting a person with ADHD
A parent, carer, family member, friend, or colleague hoping to learn more —
this event is not one to be missed!
You will hear from some of Australia's leading ADHD experts on the most topical ADHD issues of 2022. If you are part of our in-person audience, you will also have the chance to have your questions asked and answered by our Panel of ADHD experts.
Book your spot today – you're going to want to see this.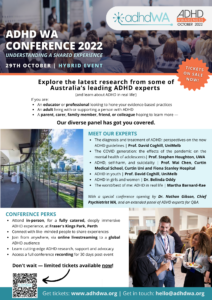 ---
Registration Options
Attend in-person, for a fully catered, deeply immersive ADHD experience, at Fraser's Kings Park, Perth, Western Australia and connect with like-minded people to share experiences, or
Join from anywhere, via online livestreaming to a global ADHD audience and learn cutting-edge ADHD research, support and advocacy and access a full conference recording for 30 days post-event.
---
Meet our Experts
The diagnosis and treatment of ADHD: perspectives on the new ADHD guidelines | Prof. David Coghill, UniMelb
The COVID generation: the effects of the pandemic on the mental health of adolescents| Prof. Stephen Houghton, UWA
ADHD, self-harm, and suicidality | Prof. Wai Chen, Curtin Medical School, Curtin University and Fiona Stanley Hospital
ADHD in youth | Prof. David Coghill, UniMelb
ADHD in girls and women | Dr. Belinda Oddy
The worst/best of me: ADHD in real life | Martha Barnard-Rae
With a special conference opening by Dr. Nathan Gibson, Chief Psychiatrist WA, and an extended panel of ADHD experts for Q&A.
Don't wait — tickets available now!
---
About the Conference Speakers
---
Pricing
Attend in-person
Non-Members – $230
ADHD WA Members – $150
ADHD WA Concession Members – $110
Join from anywhere, via online livestreaming
Non-Members – $195
ADHD WA Members – $125
ADHD WA Concession Members – $95
Support us
ADHD WA is a not-for-profit organisation relying on grants and on donations of generous individuals.
If you'd like to help support our work in helping people living with ADHD in WA, we'd love to hear from you.
Fantastic and Informative

I really feel that William has gained some great skills throughout the program and the Q&A session last week was fantastic and informative. It was actually very interesting to hear some of the older kids asking questions about their own ADHD. Thank you again for allowing us to be part…